PlayVS Adds Recreational Esports and Overwatch to Play Roster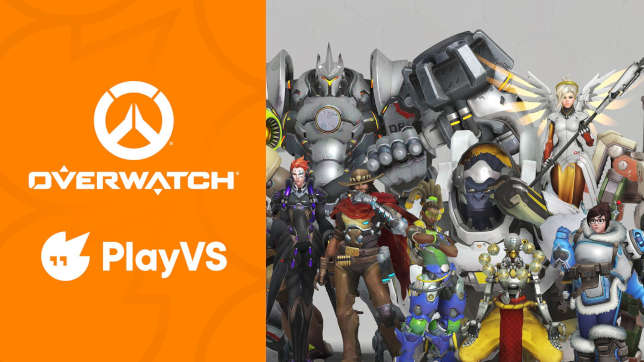 Esports company PlayVS is introducing a two-league system to high school play: varsity, which it's already had, and recreational, which is new. It's also adding Overwatch to its offerings for high school gaming.
Varsity leagues will continue to be run in partnership with the National Federation of State High School Associations (NFHS) in 23 states. Currently, schools in those states can play Rocket League and League of Legends as varsity esports, with one team per game per school. Students in the varsity league compete against teams state-wide for state championships. State championship games are typically played before a live audience and streamed on the NFHS Network. The two organizations said that additional games would be added in the future.
The new recreational leagues are available in all 50 states, as well as the District of Columbia. Those are operated solely by PlayVS. Participating schools can have an unlimited number of teams, all of which can compete in regional championships in Overwatch, League of Legends, Fortnite, SMITE and Rocket League.
PlayVS said it expected most schools would choose to have teams in both types of leagues.
The addition of Blizzard Entertainment's Overwatch will allow high schoolers to register to compete in recreational leagues for this online game starting in the fall. Teams will have up of six players. Top teams at the end of the season will advance to playoffs. The fall season begins on Oct. 15, 2020, and games will take place on Wednesdays.
"Esports is at a pivotal moment as its popularity is growing exponentially, especially as students need creative, productive and competitive outlets during COVID-19," said Delane Parnell, CEO of PlayVS, in a press release. "We're thrilled to be expanding our high school offerings so that students can participate and compete in esports at multiple levels. Our team is also excited to welcome new and returning players this fall, whether from their schools or at home. Either way, we're ready for them!"
High schools can sign up and activate teams at PlayVS.com
Source: The Journal
More News
PlayVS Coverage
View More Portfolio Company News
Select Another Portfolio Company