Mahmee's CEO Named to Inc.'s 100 Women Building America's Most Innovative and Ambitious Businesses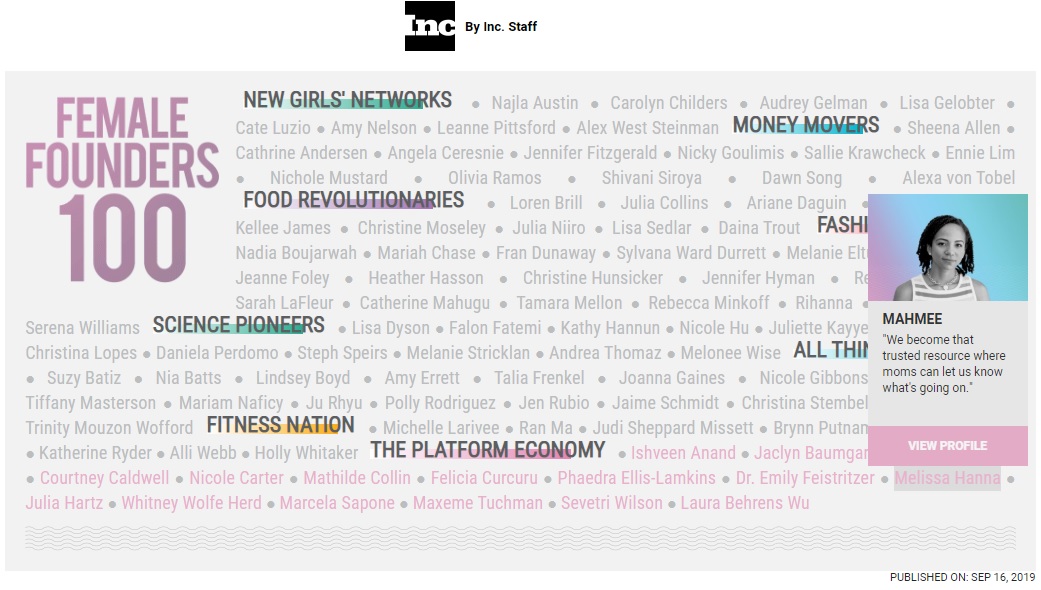 The entrepreneurs on Inc.'s second annual Female Founders 100 list have transformed every major industry in America. These boundless dreamers are making the biggest difference in 2019. We're proud to see Melissa Hanna (co-founder and CEO of our portfolio company Mahmee) represented on this exclusive list of founders. See below for her profile.
Melissa Hanna
Her health-technology platform puts mothers first.
Company name: Mahmee
Location: Los Angeles, CA
Founded: 2014
Industry: The Platform Economy
Co-founders: Linda Hanna, Sunny Walia

"When I was younger, I swore that I was never going to work in this field," says Melissa Hanna. "I didn't want to work in my mother's shadow." That's understandable: Linda Hanna pioneered the world-class maternity programs at Cedars-Sinai Medical Center and Kaiser Permanente. But once there was an opportunity to "digitize her work," says Hanna, they knew they could fundamentally change the structure of health care in this country. Mahmee, recently backed by Mark Cuban and Serena Williams, describes itself as a "data-driven maternal and infant health tech company"; it pulls a mother and her baby's health records together so the burden isn't on them to keep physicians on the same page about their care. Families get a personalized dashboard, and physicians can identify critical-care issues like post-partum depression sooner. Says Hanna: "We become that trusted resource where moms can let us know what's going on." –Jill Krasny
Visit Inc. to view the full list.
More News
Mahmee Coverage
View More Portfolio Company News
Select Another Portfolio Company