Introducing Long Game Rewards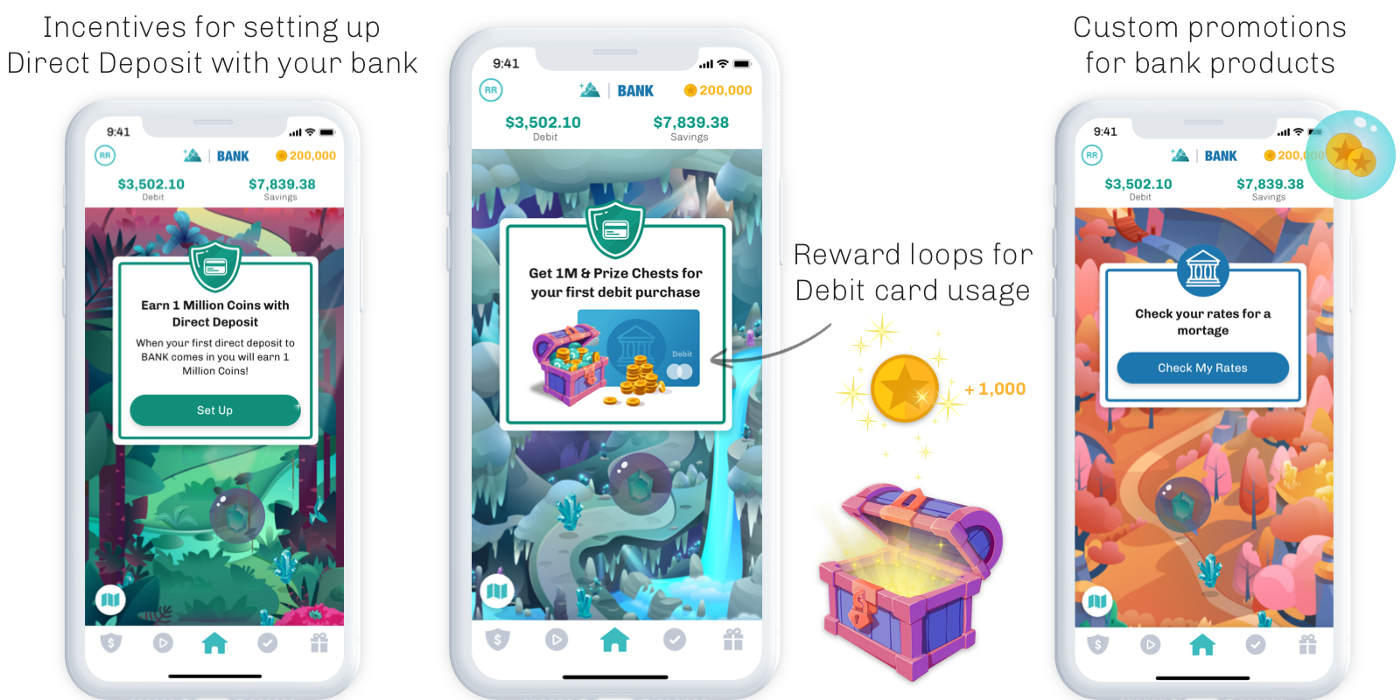 Today we are launching Long Game Rewards: a first-in-field app for banks that will: 1) help current customers use the bank more and stay around longer and 2) bring banks new customers at a lower cost.
We created Long Game Rewards using data, design, and hard-won lessons from our consumer app, which inspired customers to open the app daily and grow their savings by 20% a year. We've honed the product interface over the last 4 years, with several billion data points from almost 1M customer accounts and now we're offering it to banks.
Long Game Rewards will help banks increase savings, improve financial literacy, and command screen-time from mobile-first Gen-Z and Millennials. It's easy to set up and requires no technical integration and only a little input from marketing departments.In a few weeks, banks can launch a new digital strategy to reach this desirable demographic.
It's a game, but it's not goofing around
Long Game is a layer on top of any banks' platform. A few of the things we do for our bank and credit union customers:
Increased bank engagement & customer retention
We help banks increase engagement with current products and cross-sell more easily by rewarding customers for saving, depositing, spending, and learning more about bank products.
Core Deposits
Long Game Rewards provides incentives to drive savings and we've found that we increase saving rates by 20% a year in our direct to consumer product.
Improved Customer Communication
Banks can customize messaging within the app where customers engage daily, giving banks frequent opportunities to wow their customers.
Customer Acquisition (Coming in February)
Long Game can be used to help banks attract new customers who are then rewarded to save, spend, and use their new bank account.
How do we do all this? We have simply built a product that people love.
What gummies did for vitamins, Long Game does for finance.
For most people, personal finances are emotionally fraught. This brings up cognitive biases that impact our decision making. Financial interfaces are usually built by finance people who tend to assume that customers are rational. Not us. We're in touch with these irrationalities and use people's quirks to their favor. We do this with behavioral economics mechanisms, like prize-linked savings, and deep insights from mobile gaming to design our app, but most importantly we've used real learnings to build something that people love to use and that drives results.
Saving helps you win, winning helps you save more.
Prize Linked Saving is a behavioral economics mechanism, popularized by premium bonds in the UK, to increase savings where some of the interest payment on savings deposits are distributed as prizes based on chance (like a lottery). Instead of earning a few dollars in interest, you earn chances to win a large amount of money. Ask yourself — which is more motivating for you to increase your savings: A few pennies or a few chances to win a million bucks?
We're using the incentive of the lottery but without any of the risk. Customers' savings is always available, and still, there's an upside for saving. People in the US love the lottery: nearly 70% of people in the US play the lottery spending over $70B annually, larger than the sum of all other entertainment in the US.
So, yes: You can win money for saving money in Long Game, and that's powerful. We've tuned our coin economy and prize-winning over hundreds of thousands of savings accounts to optimize the most fun and effective way to grow savings.
It's Mobile Gaming too
Did you know that people now spend more time on mobile games than they do on Facebook or Twitter? Mobile games make us feel like we're solving problems and progressing and we're using the sense of *actual* progress to help people grow their savings and build momentum.
It's built for just me (the Zillennial)
Long Game uses personalization and beautiful mobile design to create the most delightful financial experience out there. This comes from a deep understanding of Gen-Z and Millenials, who do everything on their phone and expect beautiful design and personalized feeds. We provide each person with a customized experience where they set their personal goals and we tailor messaging and calls to action.
We build Long Game with passion and commitment to our customers and you'll be able to tell when you use our product. We're always testing more creative ways to inspire people to be more financially prepared and we'd love your input. If you'd like to learn more, visit our website or send us an email.
---
More News
Long Game Coverage
2 women entrepreneurs — one in tech, one in food — reveal what worked in getting investors on board and raising millions for their businesses
Read More >>
Gamifying Millennial Personal Finance – Lindsay Holden, Co-Founder & CEO of Long Game
Read More >>
View More Portfolio Company News
Select Another Portfolio Company