From Silicon Valley To Nairobi: Sote Founders' Startup Dream Spans Two Continents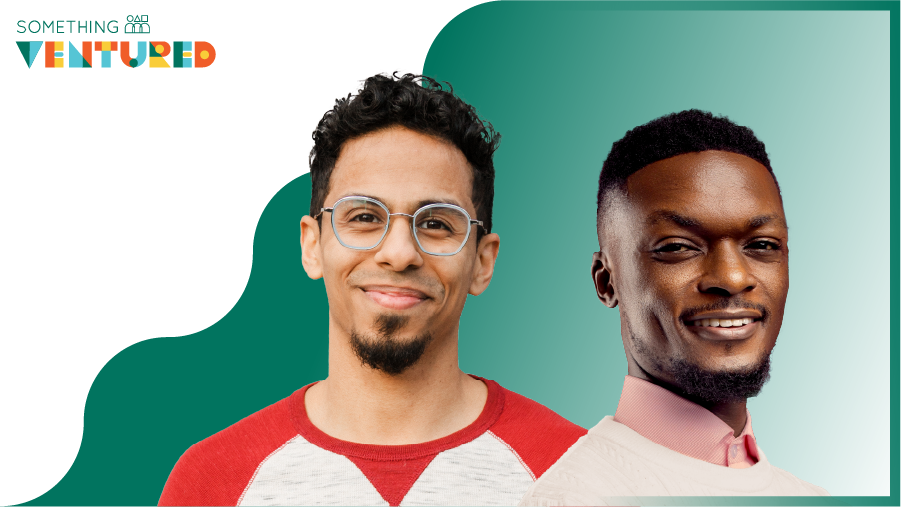 A global pandemic almost derailed Felix Orwa and Meka Este-McDonald's startup dream.
The two Black co-founders — one, a Stanford-educated African-American, the other, a Kenyan who came to the U.S. to train to be a pilot — had connected four years earlier over a shared mission to make trade logistics in Africa more efficient.
Their company, Sote, is a tech-enabled platform that helps industrial import and export businesses in Africa manage complex trade logistics like clearing customs and managing shipping containers. In the founders' view, it's not only a massive business opportunity, but a chance to have a wider positive impact for Africa, a continent that boasts one of the largest and fastest-growing economies in the world, yet is habitually ignored by Western investors.
'Are we a casualty of COVID?'
But first they had to get through 2020.
Orwa and Este-McDonald began last year feeling optimistic. They had some funding in the bank for Sote and a path to closing their first formal seed round as part of an accelerator program.
Then the COVID-19 pandemic hit, and "not only did we not raise a formal seed round at the end of the accelerator, we struggled to raise anything," said Este-McDonald.
While 2020 would go on to be a blockbuster year for venture investment, in the spring, investors were still scrambling to understand the new landscape and shore up their existing portfolios.
"The VC world kind of shut down for a little bit, and not only did it shut down completely, but certainly Africa was always kind of on the fringe of what they were willing to do. And the idea of doing Africa in this super uncertain environment; there were just no takers for that," said Este-McDonald, who serves as Sote's chief product officer and is based in Berkeley, California.
The founders took out a loan from the Paycheck Protection Program, a federal relief program for small businesses, to tide them over. They asked staff if they could delay paychecks.
"Everybody was just really stressed and the world felt like it was falling down. And it was a combination of things where it felt like, 'Man, are we going to be a casualty of COVID?' " Este-McDonald said.
The vast majority of startups fail, and the Sote founders had always known the odds were against them.
"But I've always said, you know, I want to fail because I failed, because my unit economics never worked out or I just couldn't figure it out," Este-McDonald said. "But to fail because of macroeconomic factors beyond your control and a once in a lifetime situation? "
'Not looking for charity'
By the middle of the year, venture investment had started to pick up again. And then in May 2020, George Floyd was murdered by a white Minneapolis police officer, sparking widespread racial justice protests and a reckoning for Silicon Valley's disproportionately white investor class.
With racial justice on the national consciousness last summer "the desire to invest in African-American founders was at an all-time high," Este-McDonald said.
In June 2020, tech entrepreneur Sahil Lavingia posted a message on Twitter saying he was looking for Black founders to invest in. Este-McDonald responded — and received $500,000.
The funding was a lifeline.
Still, it was important to Este-McDonald that the company was backed by investors who believed in the business itself.
"I'm not looking for people who are looking to do charity for African-American founders," Este-McDonald said. "I think we are sitting on something that is bigger and more real than most things that are getting funded right now, but I also didn't want the business to die. So, I said 'You know, let's have this conversation, but just to be very clear, I'm not looking for charity.' "
Against the odds
As two Black entrepreneurs, Orwa and Este-McDonald are working against the statistical odds: Less than 1 percent of the record $150 billion in venture capital that was invested into U.S. startups in 2020 went to Black startup founders.
That their paths crossed at all and that they became startup founders together was also something of chance.
Este-McDonald hails from Seattle, where despite "growing up in the home of Microsoft and Amazon," he didn't take any particular interest in tech or entrepreneurship. Instead, he was accepted into Stanford University, where he studied political science and planned on a career in academia.
But he realized that even at the elite university, there seemed to be two tracks: One for the people who studied science, engineering and math, and one for everyone else. "There were career fairs filled with people essentially begging Stanford engineers to go work for them right out of college," he said.
After college, still unsure what he wanted to pursue, he took a job doing inside sales for a tech company, but hated it. "I would go for lunch and I would call my mom and I would talk about not going back in for the second half of the day," he said. "That's how much I did not enjoy it."
The experience did, however, give him the idea to better connect job seekers and recruiters. He thought back to the entrepreneurship scene he'd watched from the sidelines at Stanford and decided to launch a startup to tackle the problem.
He was accepted into the Wasabi Ventures accelerator program and spent the next two years working on his startup, a marketplace for recruiters and recent graduates.
But while the experience taught Este-McDonald a lot about the world of venture investment and startups, he eventually found his heart wasn't in it. "I went through an identity crisis in my first founder attempt in that I had a mission and the ways to make money were pulling me further and further away from it," he said. "And I just didn't want to do that."
So he stepped away and reevaluated. "I learned this lesson that it's important that you find a way to have both a meaningful business model that is itself correlated with a meaningful mission," he said. "Often the two are not connected."
Still unsure of his career path, he spent the next few years working as a product manager for Bay Area tech companies, gaining valuable industry experience.
Then, in mid-2016, he got a note from a Kenyan man named Felix Orwa, who had read a blog post Este-McDonald had written. Orwa, who had come to the U.S. to attend flight school, suggested they get coffee sometime and chat.
He told Este-McDonald during that first meeting that lately he'd been mulling a problem that hit close to home: Trade on the African continent.
'Unlocking Africa to its full potential'
It was an issue Orwa had come to understand better while training to be a professional pilot. "That career gave me a unique perspective to compare various economies around the world," Orwa said. "The interesting finding was that while Africa has had the fastest-growing economies in the world for a while, both intercontinental and intracontinental trade in Africa remain the least compared to any other region."
As he saw it, Africa's trade economy had been hindered by slow progress on two fronts: The exchange of goods, and the exchange of money. But while financial innovation had already been underway for more than a decade with various fintech innovators stepping into the void, logistics was still a mess.
"Considering how intertwined the two problems are, I felt a high agency to solve the exchange of goods problem," Orwa, who serves as Sote's CEO, told Crunchbase News in an email from Nairobi, Kenya. "The exchange of goods problem is a logistics nightmare. And solving it would be particularly important for my continent's future. The last frontier to unlocking Africa to its full potential."
The business idea also resonated with Este-McDonald, combining money-making and mission.
"If you can create efficiency and you get to capture a bit of that efficiency value for yourself, that's how you make money," Este-McDonald said. "Efficiency plays are like 101 in business, but at the same time, the more efficiency that you bring to the logistics ecosystem, the more that you can facilitate the growth of trade."
They named the company Sote, a Swahili pronoun that translates to "all of us."
Will trade equity for a visa
Five years ago, Silicon Valley investors were much more reluctant to invest in an African business, Este-McDonald said, even when the co-founders' pedigrees included a Stanford degree, experience in the startup world, and an understanding of international trade.
"Not only would they say that they were unwilling to invest in Africa, but they would say things like, 'I don't even know a single person — there's not a single person — in my network or Rolodex that I imagine would be interested in investing in Africa,' " Este-McDonald said.
Sometimes he and Orwa would pitch an investor and walk away feeling upbeat, only to have talks fall through.
"We had lots of experiences with one partner taking us through the initial meetings, getting excited about it. And then once we got to that open meeting, somebody who hadn't talked to us at all was like, 'Well, what about corruption in Africa?' And then, you know, a week later it was like, 'Oh, sorry, we couldn't, as a group, get there.' "
The pair eventually decided to approach Unshackled Ventures, a venture firm that works with immigrant startup founders.
While the firm didn't invest money at first, they worked out a different kind of deal. In exchange for equity in Sote, Unshackled helped Orwa get a visa that allowed him to travel back to Africa to do on-the-ground research, but still have the option to return to the U.S. when needed.
"I think most immigrants are looking for a visa so that they can stay here," Este-McDonald said. "We were actually paying for a visa so that Felix could leave."
'Growth mode'
In late 2017, Sote received its first funding, a $150,000 pre-seed round from Unshackled and two angel investors Este-McDonald knew personally, Liz Dunn and her husband Dorion Carroll.
Sote continued to raise funding "in dribs and drabs" from various investors while Este-McDonald stayed in the U.S. and Orwa returned to Kenya.
In the background, the funding environment had also slowly started to change since that first coffee meeting in 2016. Accelerator programs like Y Combinator were increasingly investing in startups from Africa. And in 2018, McKinsey, the influential global business consulting firm, named Africa "the world's next big growth market."
Then in late 2020 — at the end of a long and difficult year in which they thought their business might fail — Sote raised its seed round: $3.6 million led by MaC Venture Capital, a firm that Orwa and Este-McDonald had been introduced to by the first VC firm that invested in them, Unshackled Ventures.
Along with the funding, MaC Managing Partner Marlon Nichols and Backstage Capital Managing Partner Arlan Hamilton joined SOTE's board.
Sote now has about 40 employees, mostly in Kenya, with a few other workers distributed in California and Vancouver, Canada. It's raised $4.4 million to date and launched into 2021 with a runway of capital.
"The name of the game is growth at this point," Este-McDonald said.
Of course, with that momentum comes the "expected growing pains" of scale, Orwa said: "Customers, people, and technology."
This article was written by Marlize van Romburgh for CrunchBase News
View More Portfolio Company News
Select Another Portfolio Company