Meet The Cornell MBA Bringing Equity To VC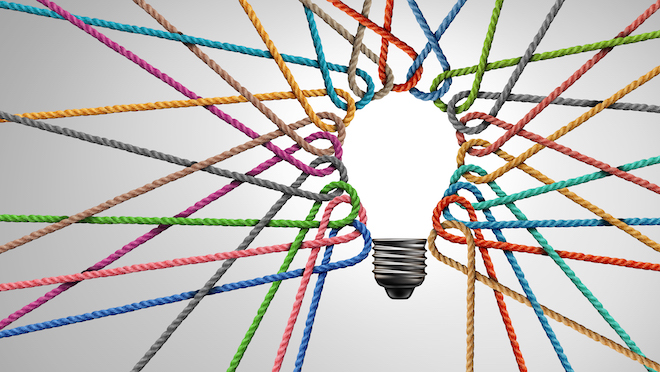 There's a lack of diversity in venture capital, and a distinct need for solutions. According to recent data, in 2020 Black and Latinx founders received just 2.6% of overall funding, while women-founded teams got almost 30% less funding than they did the previous year. Progress, says Marlon Nichols, isn't happening fast enough — where it is happening at all.
Nichols, a 2011 MBA from Cornell University SC Johnson Graduate School of Management, says the problem is not that there aren't enough people from under-represented communities with great ideas. It's that they never get an audience with the connected and deep-pocketed folks who can help them.
"Talent is everywhere," Nichols says. "But access to capital isn't."
A MAN WITH A VISION
Nichols came to Cornell in 2009 with a mission: To build a venture capital firm that practices equitable investing, championing Black, Latinx, and woman-founded companies. Just a few years post-MBA, Nichols launched what has become MaC Venture Capital, a seed-stage venture capital firm that invests in visionary founders.
"Everyone's looking at the same place and investing in the same people," he says. "There's this whole other group of people out there that are building interesting companies that solve challenges that haven't been addressed, yet they're not the ones getting the shots at the goal. I wanted to do something to help them get the shots."
MERGING TEAMS TO CREATE A HIGH-PERFORMING FUND
After two careers – one leading product implementations in a startup and another in strategy consulting for media and entertainment companies – Nichols realized he loved building businesses. "Venture capital was going to be the middle ground between my past two careers," he says.
Before Nichols took the chance on starting his own VC firm, he landed a post-MBA role at Intel Capital for nearly five years to gain experience. This job gave him insight into how he wanted to run his own firm, which would be one based on meritocracy. "If a white male founder has the best solution to a problem we care about, then we should invest in him. But if that same opportunity and company is run by a Black woman, then we should invest in her," he explains.
Soon, he launched his own company, Cross Culture Ventures, and it wasn't long before he was looking to expand the firm. In 2019, he decided to merge his company with another firm called MX Ventures to create a bigger platform and open the realm of possibilities. "It was a good decision," he says. "We'd been doing a bunch of investing with MX Ventures, and we were able to raise $110M for our first fund."
The result of the merger: A new venture capital fund – MaC Venture Capital – run by a team with differentiated skill sets and backgrounds. Merging both teams, Nichols says, is what will help to create a multigenerational, high-performing fund.
'PEOPLE ARE THE MOST IMPORTANT ASPECT OF BUILDING ANY COMPANY'
A lifelong sports fan, Nichols approaches all aspects of business with the firm belief that a team-based mindset is the way to get ahead – and he's used this mentality to navigate the merger. "Knowing your role on a team is critical when you're running a company. You have to figure out where you fit in, and where you can add the most value," he explains.
"People are always the most important aspect of building any company," he continues. "Building, managing, and nurturing relationships helps to get the best out of people, and the business."
He credits his people-skills to being part of the Park Leadership Fellows Program during his MBA at Cornell. This experience emphasized introspection and developing soft skills, and allowed him to learn about himself, how he reacts to others, and how to communicate with people who are different from him. "I learned what drives me and who I am," he says.
EMERGING TRENDS
MaC Venture Capital focuses on technology startups that are shifting cultural trends and behaviors. The firm invests in companies that have built a viable product that has either recently been taken to market or is about to be taken to market. "We coined our niche as cultural investing," explains Nichols. "We study where people are spending their money and time, and find emerging spending and time patterns that will carry into the future."
So far, the firm's invested in a number of companies in Africa, Latin America, and Canada, including Blavity, Gimlet Media, LISNR, Mayvenn, MongoDB, PlayVS, Pipe, Thrive Market, and Wonderschool. "We're trying to unearth emerging behavioral trends and search where the opportunities are within them," he says. "Part of that involves looking at underserved communities, and the challenges within those communities that haven't been addressed. The people who are going to be most qualified to solve those challenges are those who've actually lived through it."
FINDING DIAMONDS IN THE ROUGH
By looking at these underserved communities, the MaC Venture Capital team seeks ways that their major challenges can be solved by technology. Then, the team goes and finds founders that are building solutions – and are on the verge of their breakthrough moment.
The firm's website takes submissions from founders, and Nichols says that the team goes through every single submission. "If it makes sense for our company, then we schedule a follow-up meeting," he explains. "There are some diamonds in the rough, and you have to be open to meeting folks that aren't in your network."
Nichols says that providing a way for founders to get in touch with the team isn't normally something that happens in venture capital; usually, he explains, founders get a pitch meeting only because they know someone who knows an investor. The MaC Venture Capital format helps to further equal opportunity and access to capital, and Nichols' hope is for the firm to become a globally reputable brand known for both adding value to its portfolio companies, and for being a firm that portfolio companies love working with.
"We want to be a fund that's providing opportunities to the most qualified people, irrespective of where they come from, what they look like, and what race they are," he says.
'CREATE VALUE EVERY STEP OF THE WAY'
Through his experience as co-founder and managing general partner of the firm, he's noticed that most non-POC founders are confident in what they're doing. "That comes from different life experiences," he says.
His biggest piece of advice for BIPOC and female founders seeking funding is to build their confidence, and he believes that this confidence will shine through when founders develop a deep understanding of what they've built and own their worth when speaking about it. While he realizes that there isn't a lot of capital that goes to diverse entrepreneurs, founders need to do their best to build with the limited resources. "There's been progress, and it's changing, but it's not enough progress," he says. "The more that you build, the more points you put on the board, and the harder it becomes for someone to tell you no or devalue what you've built. Create value every step of the way."
BREAKING INTO VC POST-GRADUATION
For MBA students and grads seeking a career in venture capital, he recommends they build relationships with founders and become known as a reputable resource.
"Venture funds want one of two things in associates," he says, "either access to deal flow that the fund doesn't currently have access to, or a domain expert, meaning knowledge and relationships in a specific space."
This is why networking is crucial, Nichols says.
"Go to all the events where other investors are and meet them," he says. "Don't always focus on the most senior people within those companies; focus on the folks that are in the position that you're going to be looking to fill. Oftentimes, venture firms aren't big organizations, so everyone's opinion carries some weight."
Source: Poets and Quants
More News
Marlon Coverage
View More Portfolio Company News
Select Another Portfolio Company